Introduction
This tutorial will guide you in detail through the steps necessary to setup an INVESTBANKS POS wallet on Windows 10 64-bit Desktop that is controlled via your local Control wallet.
Configuration of your Control wallet
Staking should begin automatically under most circumstances, but if you are experiencing issues check that the following conditions are met:

Follow the steps 1 to 7 in the images.
Chain must be synced, not importing or reindexing

Must have active connections

Wallet must be unlocked (unencrypted wallets are always considered unlocked)

Choose option Staking Only and enter your password

Must have mintable coins (aka, at least 31 confirmations - confirmations can be checked by mousing-over transactions)

Must have more coins than reserve balance (reserve balance default is 0) (Immature)

Masternode additional data must be synced
Status check via command-line interface
You can check the status of these conditions in the command-line interface or using
Settings -> Debug -> Console -> with the command getstakingstatus

Staking can sometimes take up to 30 minutes to begin working even after conditions are met. If all conditions are met but staking does not begin after some hours, restart the wallet.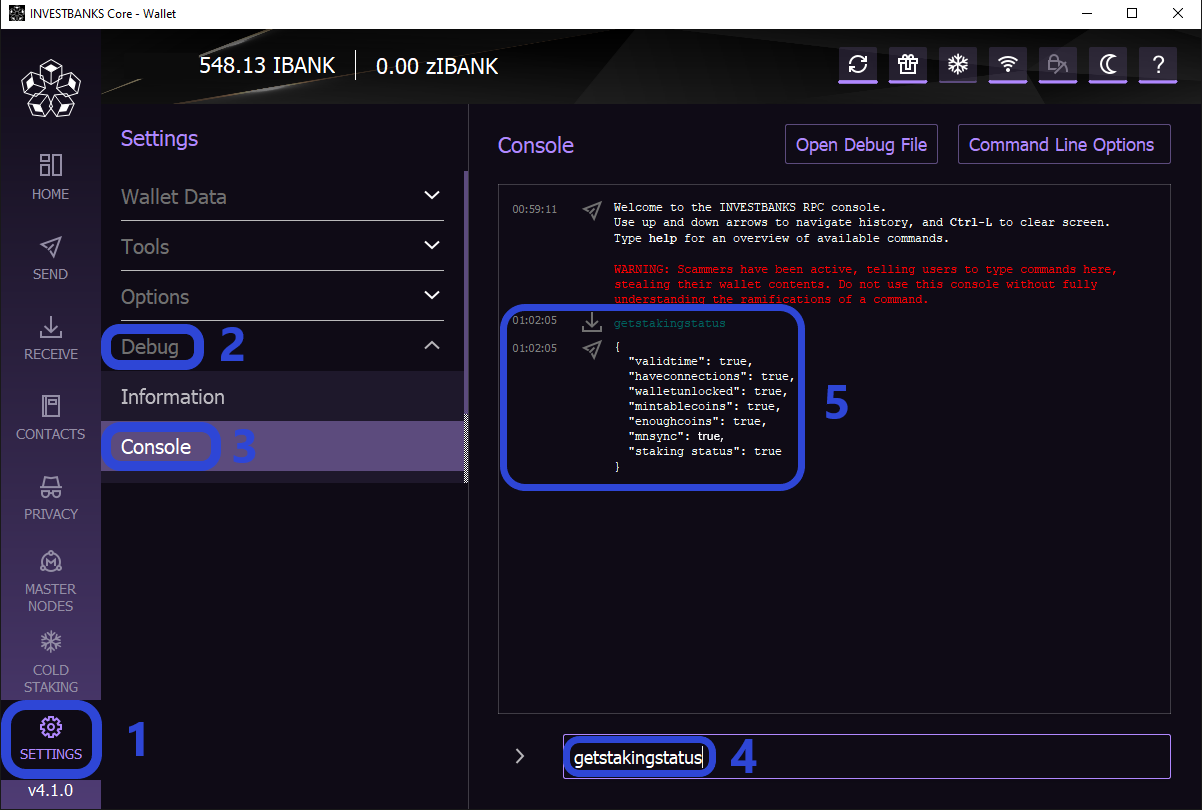 How to troubleshoot staking activation
As a first step, please verify that you meet all staking conditions on this page. Condition number 5 is a common reason for staking being inactive. Waiting for your coins to mature takes 31 blocks (31 minutes). During this time your GUI wallet may show that part of your balance as immature.
If your wallet meets all of these conditions and staking is not active, try the getstakingstatus command:
For a GUI wallet, open Settings -> Debug -> Console. Then input the command getstakingstatus
For a CLI wallet, enter command investbanks-cli getstakingstatus

You should see an output similar to the one below that shows your compliance with several staking conditions. If any of these are false, it should narrow down the issue.

If the steps above are unsuccessful, try the following:
Gracefully shutdown your investbanks wallet.
Wait 30 seconds and then restart the wallet.
Wait 5 minutes and then unlock your wallet for staking.